ReproducibiliTea Journal Club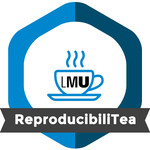 The interdisciplinary journal club "ReproducibiliTea" is taking place regularly to explore main questions and current topics concerning Open Science and the credibility of research findings. This concept, which originated in Great Britain, has gained widespread recognition and adoption in numerous countries under the same name. Meetings are conducted in a hybrid format, and everyone is encouraged to bring their own snacks and drinks.
The journal club conducts open discussions on Open Science, reproducibility, and related topics, and it explicitly welcomes participants from all academic levels, fields and institutions, fostering a rich and diverse exchange of ideas.
You are cordially invited to attend our upcoming meetings! To stay updated and receive notifications about these gatherings and the selected papers, you can either subscribe to our mailing list by clicking on this link: https://lists.lrz.de/mailman/listinfo/reproducibilitea, or you can send an email to reproducibilitea.munich@gmail.com. There is no requirement to have read the designated paper before each session, although it could be beneficial.
We look forward to meeting you at our next journal club sessions!
Organizing team:
Laura Goetz, Graduate student in Medicine and Psychology
Viktoria Wiegelmann, Undergraduate student in Psychology
Gracia Prüm, Undergraduate student in Psychology
Finia Loeb, Undergraduate student in Psychology
Alp Kaan Aksu, Undergraduate student in Psychology and Computer Science
Julian Lange, PhD student in Statistics
Former members of the organizing team:
Stephan Nuding, 2019-2022
Leonhard Schramm, 2019-2023
Franka Etzel, 2022-2023