ReproducibiliTea Journal Club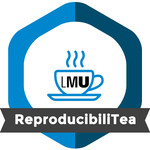 The interdisciplinary journal club "ReproducibiliTea" is taking place regularly and addresses main questions and current topics concerning Open Science and the credibility of research findings. The idea - originated from Great Britain - has already spread to many other countries using the same name. Meetings are hybrid and people joining in person are welcome to bring their own snacks and drinks.
The Journal Club consists of open discussions on Open Science, reproducibility, and other related issues and is explicitly open to all disciplines and institutions to create the most interesting interchange.
At the LMU, we decided to invite the speaker(s) of the respective paper that is discussed in each session. The author herself/himself starts with the introductory talk including a short summary of the paper. Afterwards, there is enough time for direct interaction with the author(s) and you can contribute your own thoughts and questions.
You are warmly welcome to join the next meetings. To join the mailing list you can subscribe here: https://lists.lrz.de/mailman/listinfo/reproducibilitea or you can send an e-mail to reproducibilitea.munich@gmail.com. You will then get information about the next meetings and chosen papers. For each session it would be helpful to have read the announced paper, but there is no obligation to do so.
The organisation team is looking forward to seeing you at one of the next Journal Club sessions.
Organisation team:
Laura Goetz, Medical Student at LMU Munich
Stephan Nuding, PhD Student at the Chair of Social Psychology
Leonhard Schramm, Psychology Student at LMU Munich
Franka Etzel, Psychology Student at LMU Munich
Viktoria Wiegelmann, Psychology Student at LMU Munich
Gracia Pruem, Psychology Student at LMU Munich