Scientific Coordinator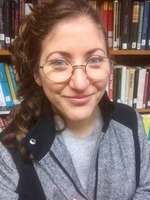 Malika Ihle is the LMU Open Science Center Coordinator, supporting the scientific board in developing a comprehensive approach to open research that extends across all disciplines, using both bottom-up and top-down strategies.
Her role is to
provide peer-to-peer training and develop an open research curriculum,
coordinate grassroots initiatives and organise various events such as seminars and conferences,
support meta-research collaborations,
liaise with local, national (e.g. the German Reproducibility Network (GRN)), and international stakeholders to inform the design of incentives and policies,
and co-develop a strategic plan to make the LMU Open Science Center a sustainable entity.
Please do not hesitate to contact her at malika.ihle@lmu.de with any suggestions, requests, or opportunities pertaining to these activities!
Prior to this, Malika was in a similar role for 2.5 years at the University of Oxford, coordinating Reproducible Research Oxford (RROx) and acting as the UK Reproducibility Network (UKRN) local network lead.
Malika holds a PhD in Biology, and is a founding member of the Society for Open, Reliable, and Transparent Ecology and Evolutionary biology (SORTEE).
Selected Articles:
Ihle M, Winney IS, Krystalli A & Croucher M. 2017. Striving for transparent and credible research: practical guidelines for behavioral ecologists. Invited Idea – Behavioral Ecology. https://doi.org/10.1093/beheco/arx003
O'Dea RE, Parker TH, Chee YE, Drobniak SM, Duncan DH, Fidler F, Gould E, Ihle M, Kelly CD, Lagisz M, Roche DG, Sánchez-Tójar A, Wilkinson DP, Wintle BC, Nakagawa S. 2021. Towards open, reliable, and transparent ecology and evolutionary biology. BMC Biology. https://doi.org/10.1186/s12915-021-01006-3
Links:
Contact:
Email: malika.ihle@lmu.de
Phone: +49 89 2180 5872