Opening ceremony of the LMU Open Science Center
08.05.2018 at 18:00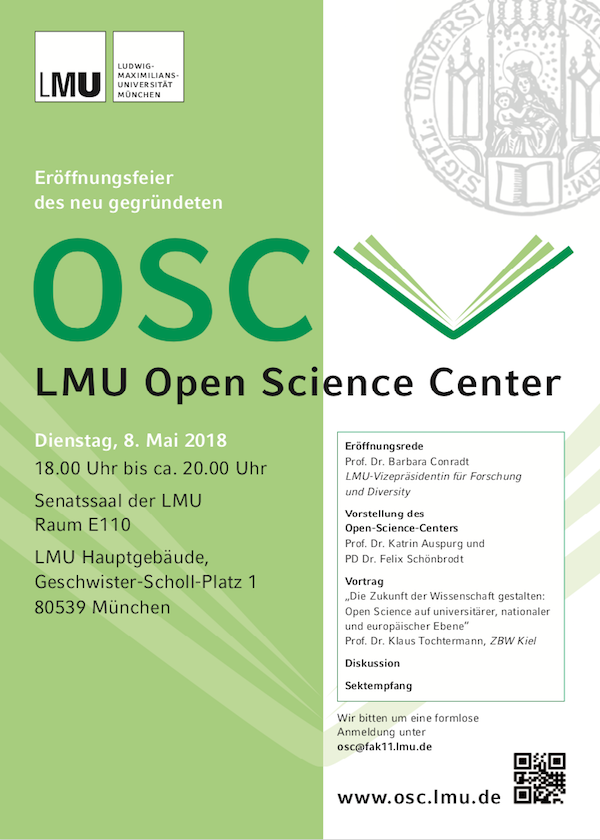 We kindly invite to the opening ceremony of the recently founded LMU Open Science Center.
The center aims at fostering the engagement for open, transparent, and reproducible research. This goal is supported by: Research on research, training of researchers, and addressing relevant committees in order to create new and innovative incentive structures for open science (see http://www.osc.uni-muenchen.de).
We are delighted to announce that the event will be opened by Prof. Dr. Barbara Conradt, Vice President for Research at the LMU. After a presentation of the OSC's structure, goals, and key work areas, Prof. Dr. Klaus Tochtermann (ZBW Kiel), one of the leading researchers in the Open Science community, will give a keynote on "Shaping the Future of Science: Open Science on a University, National, and European Level".
When: Tuesday, May 8th, 2018, 18:00 to 20:00
Where: LMU Senate Halll (Room E110), LMU Main Building, Geschwister-Scholl-Platz 1, 80539 Munich
For planning and estimating the number of guests, we would be glad if you could RSVP via osc@fak11.lmu.de.
(The event language will be German).
Speaking for the OSC, with best regards,
Prof. Dr. Katrin Auspurg (Speaker)
PD Dr. Felix Schönbrodt (Managing Director)